Rugged HD Binocular
The Rugged HD Binocular is a head mounted display system for nonstandard environments. Head worn and hands free, it replaces a rugged mobile monitor display while enhancing the capabilities of the user. The system is smaller, lighter and consumes less power than a traditional monitor.
This display system has been specifically developed to support light-secure, high definition imaging of advanced EO/IR sensors such as the SeaFLIR 380-HD. It can also be used to monitor ISR video from alternative sources such as computers, cameras, UAVs, UGVs , ROVs, and other remote networks such as perimeter security systems. Simple controls allow the operator to quickly adjust the display to accommodate all environmental conditions with little to no training required.
The displays are independent in nature and are daisy-chained to create a binocular system. This architecture results in a single small cable to the head, and a short jumper cable between displays. The HD Bino leverages a combination of the Wilcox G24 helmet mount, PVS-14 Bridge, and PVS-15 Gen 2 shoes to provide the user with a world class helmet mount and adjustment system. The displays also replicate the PVS-14 eyepiece to leverage applicable available accessories such as eyecups, light filters, and lens caps.
Rugged HD Binocular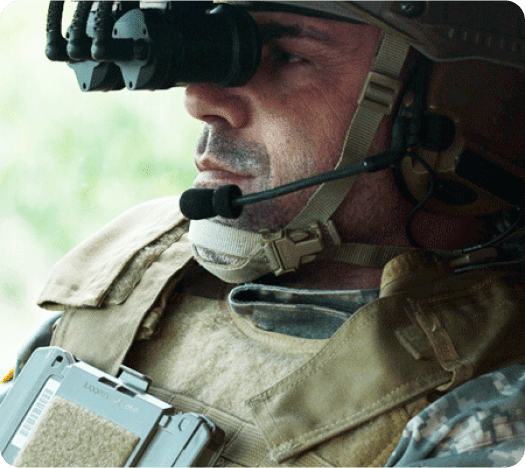 Display Type

Full Color OLED

Resolution

Option 1: 720p & SXGA
Option 2: 1080p & WUXGA

Field of View

30° Diagonal

Brightness

Option 1: 800 cd/m²
Option 2: 150 cd/m²

Contrast Ratio

Option 1: 10,000:1
Option 2: 1000:1

Weight

7 oz per display; 1.6 lbs for full binocular config. with Wilcox components

Video Inputs

3G, HD SDI

Power Input

5-12V ± 10 %

Power Consumption

<6W binocular, < 4W monocular

Environmental Standard

MIL-STD-810G
Download the Rugged HD Bino Data Sheet