Tac-Eye 2.0
The Tac-Eye 2.0 is a display system for non-standard environments. Head-worn and hands-free, it replaces a direct-view display while enhancing the capabilities of the User. The System is much smaller and lighter than a traditional monitor and consumes much less power. It allows the User to maintain light discipline (no light signature from User) and can be interfaced electrically and mechanically to a variety of usage models.
Its high-contrast SVGA display is perfect for displaying images from computers, IR imagers, camera systems, thermal weapon sights, or any other video source. Simple controls allow the operator to quickly adjust the display to accommodate all environmental conditions with little to no training required. The Tac-Eye 2.0 can be mounted via clip for glasses or a boom for helmets.
Tac-Eye 2.0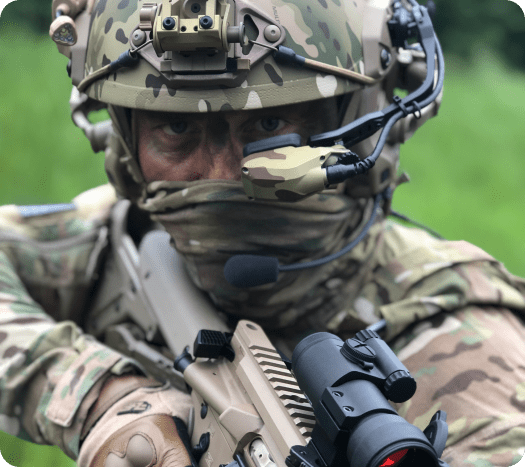 The Tac-Eye 2.0 advantage
Optics module does not impact ballistic integrity of protective eyewear
Extremely stable goggle or sunglasses mount option is comfortable for extended durationsUser can remove the system without removing their helmet
Adjustable HMD module gives user ability to move the display out of the field of view or into a position ideal for the individual
60% increase in battery life of a typical computer using the Tac-Eye LT over native direct view screen
Custom cable assemblies and interfaces are available
Proven HMD production and delivery capability
The Tac-Eye 2.0 advantage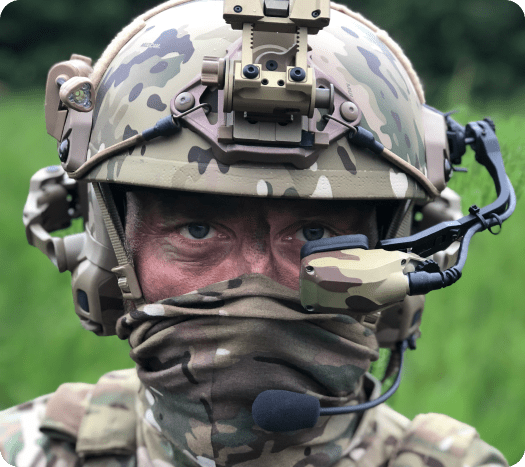 Display Type

AMOLED 800 x 600 Pixels (full color, RGB)

Field of View

29.5° Diagonal

Head-Borne Weight

51 grams/1.81 ounces

Gray Levels

Up to 256 per primary color

Brightness

> 150 cd/m²

Contrast Ratio

>200:1 (color), >800:1 (monochrome)

Display Inputs

VGA (640×480 and 800×600), NTSC, RS170, PAL

Power Consumption

< 1.0 W (VGA)

Readiness

Usable image within 3 seconds

Operating Temperatures

-31°C to +49°C

Storage Temperatures

-51°C to +71°C

Ingress Protection

IP67 (waterproof and dustproof)
Download the Tac-Eye 2.0™ Data Sheet
Product Configurations
The Tac-Eye LT offers three configuration options; Video, VGA, and VGA/Video. The VGA configuration includes a standard VGA connector as well as a rugged mouse. The Video configuration provides a BNC and RCA connection that will accept NTSC, PAL, and RS-170 video signals. The VGA/ Video configuration includes all of the connectors and input devices from both of the VGA and Video configurations.
Part# 387T10074